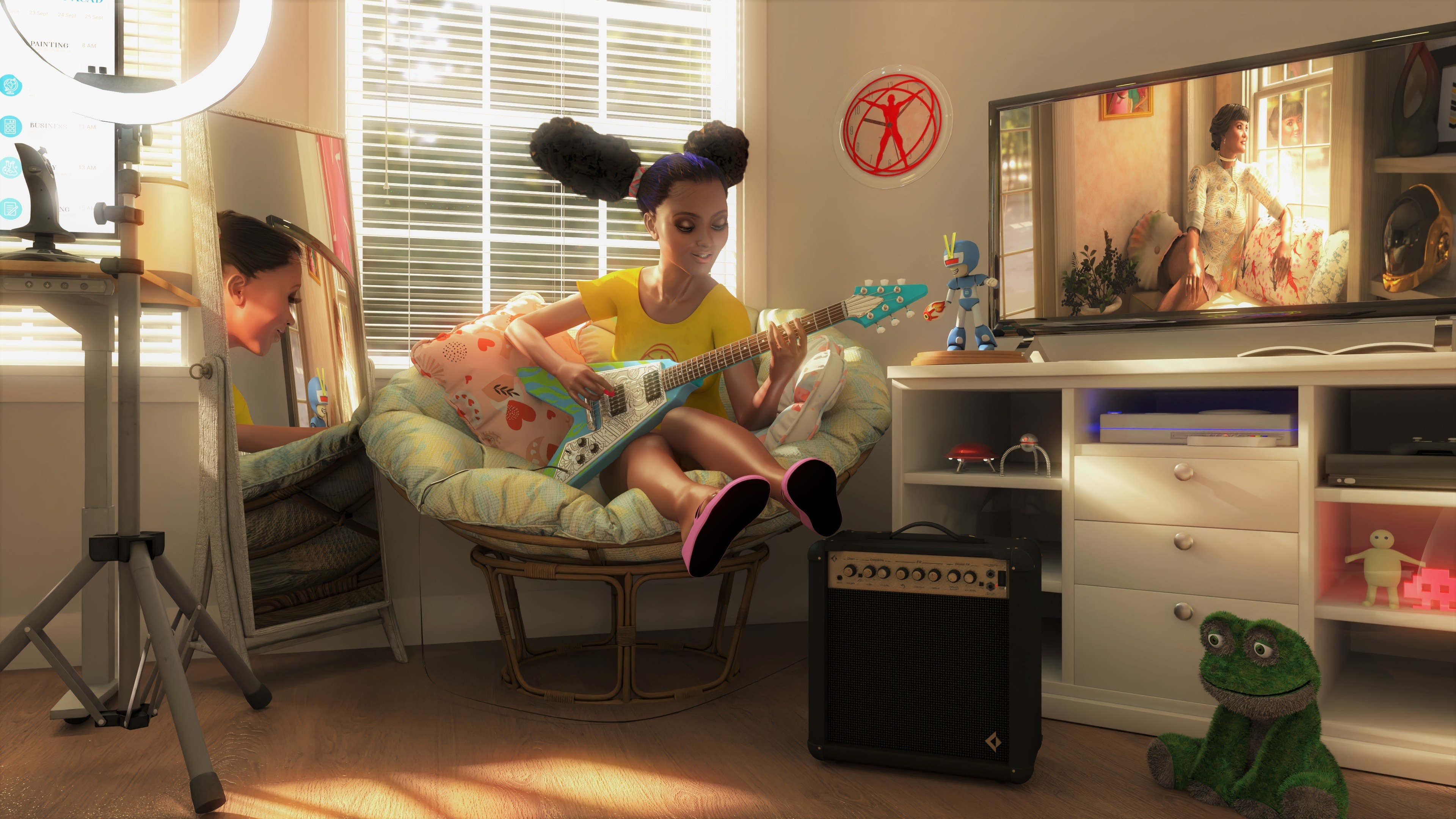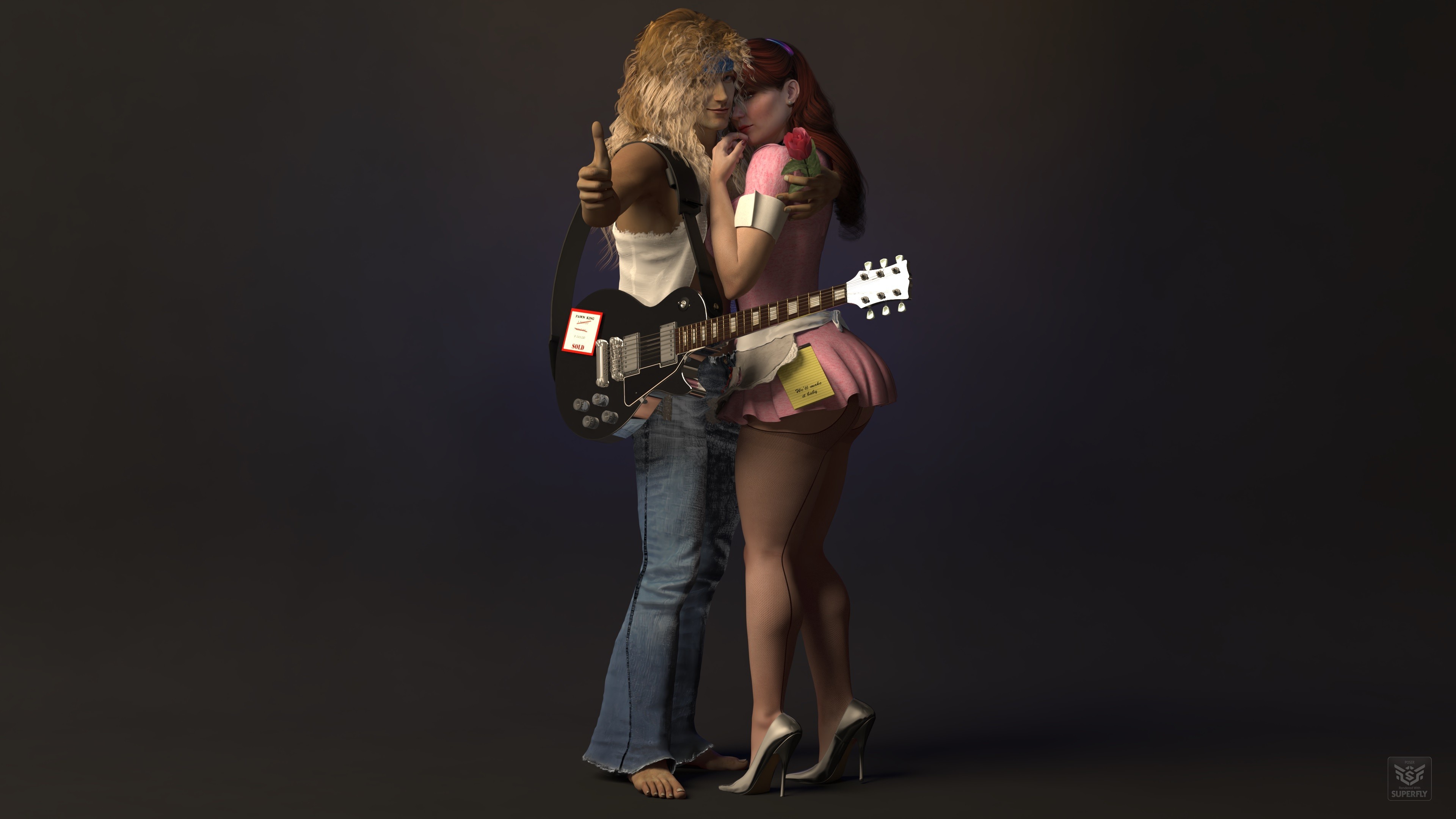 Poser4me has been creating striking scenes with Poser for decades (check out the above slideshow). His work is full of color and life. You can see that a lot of thought and craft went into the making of each image. Poser4me's themes are primarily science-fiction, atmosphere & mood, and people. We are delighted that Poser4me agreed to a short interview which you can read below. Poser4me goes into detail on the render process and settings for the scene, "Morning Has Broken". The video gallery features 10 works hand-picked by Poser4me.
"I love Poser because it is so easy to use and quick to create my worlds and tell my stories to share with you all."
What got you interested in digital art?
As a kid, I always loved cartoons, so as a teen comics were my next love. The stories and the artist showed me the power of telling great stories through the medium. My first job as a young adult was working as an apprentice at an art studio. I already owned an Amiga 1000 computer playing with software programs like Deluxe Paint 3 and 4. But at this studio, I was introduced to a program called Swivel 3d on the Macintosh, and wow I was hooked into the digital landscape. In the early 90's I was a computer enthusiast going to local computer trade shows buying parts all to be able to build and play with 3d programs on x86 pcs. All this has the power to create your own worlds and narratives like George Lucas and Spielberg. And then there was Poser as if heaven had heard my prayers! I had the ease of use to create like a rockstar, and here we are today.
What is your workflow when creating scenes with Poser?
Whether it's a sci-fi, pinup, or mood I try to stay faithful to the essence of the genre. The beauty of being able to share our art is in connecting to others around the world who share similar ideas. Sometimes I have an idea for a scene and open Poser
and start playing around with the subjects until I get what I want.
Other times scenes come about through serendipity just trying different ideas and solving a problem such as the right lighting. When Happy I bring to render over to Photoshop for effects like bloom or sun flares. This has really been a learning process and one reason for my work is to show others what you can do and get out of Poser today.
"Morning has Broken" is a remarkable Poser scene. Can you tell us how you created this scene and what your inspiration was?
I had recently discovered how to bring Daz assets into Poser and this one, Forest Road, I just finished adding bump maps to. So I wanted to use it in a render and I often listen to music while working. I love all genres of music and Cat Stevens's song Morning has broken was ringing in my ear for a while. I guess a light bulb went off and worked on this scene for a while minus the lady pushing the bike. I put it away for some time and later went through my scene library and said to myself what could I do to make this scene pop. I've always loved the State of Main and the beautiful leaves and envisioned myself in an early morning sunrise watching a person enjoying the views and nature. I never thought this would get the views it did, just goes to show you never know what will connect to people as you might think.
Can you expand on your render settings for "Morning has Broken"?
Morning has Broken, as are many of my renders, was an attempt to solve the problem of trying to capture a certain lighting mood.
Any medium you work in has strengths and weaknesses, understanding this and yourself is a process of trial and error. For the longest, I was so intimidated by the lighting in Poser and really wouldn't try to get too deep into it. I think my breakthrough was a combination of reverse engineering scene assets lighting and never giving up. Even if that means saving a scene you working on and coming back later with a fresh set of eyes. I still have a lot to learn but the fear of lighting and materials is at a minimum due to understanding.
I rendered this scene at 3000x3200 at 72.00 pix/in. I love the ability to view the whole screen being rendered all at once by checking the progressive refinement. I usually render at 10 pixel samples with an adaptive setting of 0.20 while I am doing test renders before my final. My final pixel sample was 44 with adaptive at 0.0 when I'm ready to render for print. Poser 12 new Intel de noise feature was really great to play with and I crank it to 100% here. I remember rendering via cpu that took forever for one scene, I used a Nvidia GTX 1600 Super for this render which made render times night and day.
Later I invested in a RTX 3090 with optix capabilities and wow what a difference. I went from a Bi plane to a supersonic jet in the end. I know a lot of people have laptops and don't have powerful GPUs but if you can I highly recommend a graphics card that and take full advantage of Super flies optix render setting. Now with Poser 13 out the speed of renders is blinding fast.
Here for instance I wanted the light to break through the trees casting shadows on the asphalt. This was accomplished by having an area light above the trees at a high intensity of 3400 at a high scale of 11568%. I found this solved the problem of creating that feel of walking under a canopy of trees.
My Sky is an HDRI from another scene asset I believe called the tree of life I purchased from Daz by flipmode made for Poser. And by the way, Forest Road is the name of this scene I'm using which I imported from Daz by Polish. Converting scenes is a whole other ball of wax as you have to add the additional materials of bump, reflections, metallic, and so on even before you can get it to look good.
Through all of this, I have learned so much about textures and materials and I am grateful for it. Now with the sky in place, I had to line up a sunlight coming from behind the lady. I used an infinite light using the ray trace shadows with a blur radius of 1 to 1.4. My intensity is set at 1000 as through trial and error it produced a great-looking effect of a Morning has broken. You know we learn so much with each render through failings as it's been said we first have to learn how to fall and that is so true.
I really hope this helps others as this is one of the reasons I post on Renderosity to show people if I can do it you can too. I really want to show what Poser can do and I remember some people committing how by renders don't look like a Poser render. I say yes this is Poser and you can get the same results and better. As far as I'm concerned it's Poser4me!
What advice do you have for digital artists just starting out with Poser?
My advice is to be patient with yourself. For so long I was intimidated by lighting and the material room in Poser. I would go on youtube and get an understanding of the basics of materials and textures and lighting. Poser has great tutorials on all these aspects. The quickest way I learned was reverse engineering assets and scenes until you understand the essence thereof. I say learn the strengths and weaknesses of the different lighting. Do not be afraid to fail, I promise once you get lighting and materials down you can make any scene shine.
Any last thoughts you'd like to share?
I would like to thank all those who have viewed and commented on my work as it has pushed me to do better and try to come up with new ideas for scenes. And that I draw inspiration from so many different Poser artists.
I'd also like to point out that the scene, "My Turn to Care", was a self-portrait of me and my father in a nursing home as I sat at his side. He passed away in 2019 from A.L.S. After a diagnosis in 2015. He was a great man loved by many.