Using the Hierarchy Editor
To display the Hierarchy Editor palette, select Window > Hierarchy Editor.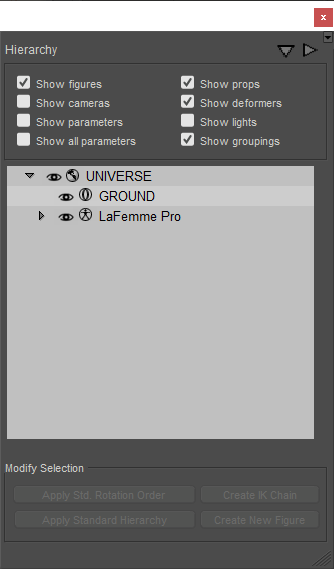 The Hierarchy Editor.
The Hierarchy Editor palette allows you to:
Select scene elements. Selecting an element in the

Hierarchy Editor

palette selects that item in the

Document

,

Current Actor

pull-down, and

Graph

palette.
Access object properties. Double-clicking an object listing in the

Hierarchy Editor

palette opens the

Properties

palette for the selected item.
Quickly hide or view scene elements.
Rename or delete elements and parameters such as morph targets or Point At parameters. Use caution, as this is a very powerful and very permanent change.
Set up or change parent-child relationships for props.
Set up Inverse Kinematics (IK) chains.
Change rotation orders for props or body parts.
Create new figures using a legacy method (Poser 4 and earlier) of dragging objects into the scene and arranging them in a hierarchical order, after which the

Create New Figure

button was pressed. This method has since been replaced with the Poser Setup Room, discussed in The Setup Room.
Expand or contract the hierarchy list to view parents and children or parents only. Click a right arrow to expand a portion of the tree, or a down arrow to collapse a branch.
Clicking the down and right arrows in the upper-right corner of the hierarchy window will collapse or expand the entire tree in the hierarchy editor.
© 2020-2021 Bondware, Inc. Last updated November 23, 2021