Establishing Hierarchal Relationships
This does the same thing as the Set Parent menu command (see Changing a Parent). To establish a hierarchical relationship using the Hierarchy Editor:
Load your desired prop(s) into the scene.
Open the

Hierarchy Editor

palette and find the prop.
Drag the child object on top of the root (parent) object. A blue box highlights the target when the child object is on top of it.
Drop the object onto the highlighted object.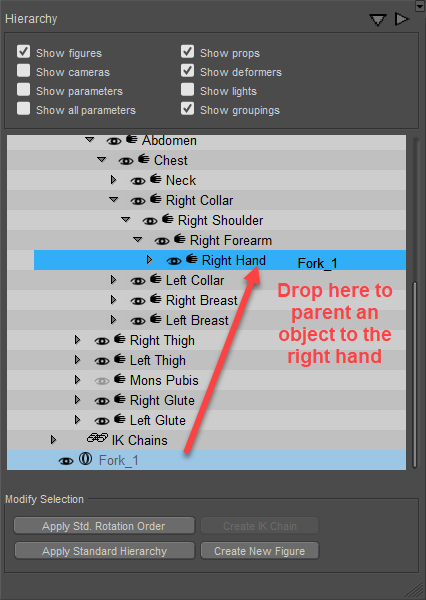 Dragging and Dropping to parent an object.
To reorder a child at the same hierarchical level:
Click the child object and drag to its new location. A green line appears just below the target location, indicating where the object will be placed once dropped.
Drop the object.
You can also create hierarchies spanning figures (such as a woman on horseback):
Select the child figure (the woman in this example).
Drag the child figure onto the desired parent (the horse in this example).
Drop the child.
You can also set up hierarchies between figures outside the Hierarchy Editor palette as follows:
Use the pop-up to select the child figure.
Select

Figure > Set Figure Parent

(see Set Figure Parent ) to open the Set Parent dialog.
Select the parent body/body part in the dialog and click

OK

.
© 2020-2021 Bondware, Inc. Last updated November 23, 2021