What inspires you?
For young adult author T.J. Roberts, it was the scenes he created in Poser that helped form the foundation of his Fairalon series.
Fairalon follows the adventures of 11-year-old Iris Archer, who is different from her classmates. She's new in town, sees things others don't and is generally the weird kid. But then she discovers the magical world of Fairalon, which makes it possible for her to believe in herself.
Fairalon follows the adventures of 11-year-old Iris Archer, who discovers a portal to a magical world and a way to believe in herself. (fairalon.com)
When Roberts started with Poser 4, he wasn't sure of himself either. But after hours of practice, he began to believe in his ability to create the magical world.
He said he started with 3D rendering "mostly out of curiosity. I had never seen anything like Poser before and it looked really interesting. I wanted to make animations and Poser did that."
Through the help of the forums on Renderosity and DAZ Studio, he said he got a handle on the program and learned to create a world of his own.
"I cannot draw a stick figure, so this was perfect for me," he said. "I got better, but still terrible compared to the images I saw in the galleries. How do they do that?!? It didn't really matter because it was fun and I could see the carrot in front of me, to make an animation that looked real. I envied the people who were making still images. How nice that must be, try a 3-minute movie with moving models and props!"
He started to seriously create with the release of Poser 7, which encouraged him to upgrade his computer, so he could render better images.
"Now, I could make an image that looks good, and an animation that didn't take weeks to render at high resolution. A little Photoshop enhancements/editing and voilà', I had an image I like and would look great in a children's book idea I had been kicking around," he said.
That idea sprouted roots and grew into Fairalon.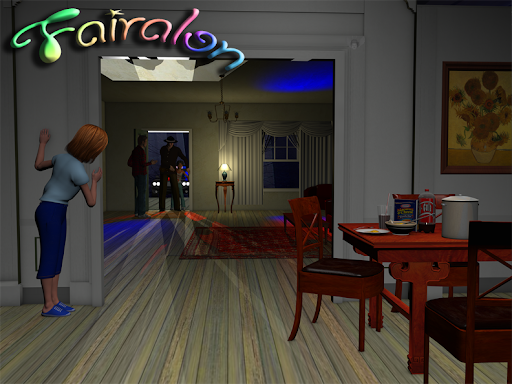 After consulting an editor, Roberts transformed from an early-reader book into a young adult book for middle-grade readers.
"Many of the images had to be redone, but I was happy with the outcome. The main character was now much older at 11 years old so the story and images changed," he said.
After the main character, he found more inspiration in the third-party content he found at Renderosity. From characters to plot points, Fairalon is filled with products from Renderosity and other sites.
"I often peruse the market content on Renderosity for my character needs," he said. "If something looks good, I add it to my wish list. Clothing and basic items I usually purchase or try to make do with something I have, like the fairy gowns."
Sometimes a setting or prop provides the inspiration he needs to complete a scene in the book.
"I grab it, create the image and then write the scene. It is very helpful to see it in your head, then in 3D on the screen as you can change your perspective, see if it works or looks ridiculous," he said.
Years ago when he saw the baby sumo model (from "zygote" I think), he began to mulled an idea. He tried putting fairy wings and enormous gym shoes ("They need those giant feet and shoes for landing, duh.") on the model. The result made him laugh.
"Ta da, the fairies were born. Poser Kate became Iris, my 11-year-old protagonist. She was perfect. I now had my main characters," he said.
When he needed a way for Iris to travel to Fairalon, he used a tree swing from his Renderosity wish list. It became a key prop throughout the book, Roberts said. He added a few RPublishing products and a magical world was born.
"I have used a lot of models and props from many fine creators. It really helps to give me ideas or flesh out ideas I already have," he said.
Although not all readers appreciate the use of 3D models in a children's book, he said.
"Everyone expects children's books to be pastels or watercolor images, so when they see 3D it takes them aback," Roberts said.
But that won't stop him. He has plans for a sequel, "Return to Fairalon." In this book, Iris is 13 years old and her powers have matured along with her.
"I've already purchased High School items, a haunted house and many other scenes that have already made it into the book. You do have to be careful you don't get lost in Poser to the point where you don't write the scene, but it's a fun problem to have," Roberts said.
You can find out more about Fairalon at facebook.com/FairalonBooks.
Poser offers users the ability to use interactive 3D figure design to create art, illustration, animation, comics, web, print, education, medical, games, story boarding, and more. Using the program, creators can bring their stories, dreams and fantasies to life. From historic to contemporary, sci-fi to fantasy, Poser is the 3D graphics software tool used by professionals and hobbyists alike.
That's why we want to take a closer look at some of the creators who leverage the power of Poser to create. Email us at mwillard@renderosity.com if you would like to participate in the Creator Series.
What can you create? Let us know on Twitter at @poserpro, using #CreateWithPoser