Modifying Figures & Props
This chapter explains how to create completely custom looks for your figures and props. For example, human bodies come in all shapes and sizes. You can modify proportions using various tools to achieve interesting effects.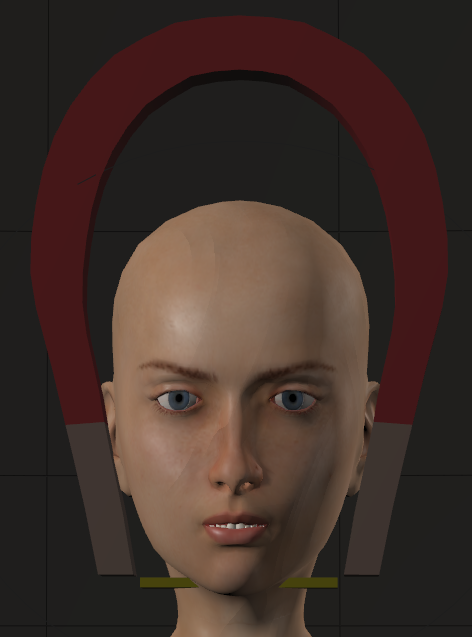 A figure's head reshaped by a magnet.
Poser includes a wide variety of tools for figure/prop shaping. Here are some tips, tricks, and important things to keep in mind when editing figures and/or props:
All Poser figures come with morph targets and full body morphs, allowing you to reshape one or more body parts. You can find more information about creating morphs in Creating Morphs with the Morphing Tool and Creating Morphs in Other Applications.
You can use the

Grouping

tool (see The Group Editor) to create cloth, hair, or other groups. You can also deform polygon groups as mentioned in Using Deformers with Grouped Objects. The

Grouping

tool is located in the

Editing

tools display.
The Scale and Taper tools can change a body or element's shape. The Scale and Taper tools are located in the

Editing

tools display.
Deformers (magnets, force fields, and waves) can also alter shapes. See Using Deformers.
You can replace body parts with props (see Replacing a Body Part with a Prop).
You can save your work to the

Library

palette.
You can modify entire figures or individual body parts. For example, enlarging the abdomen can create a beer belly. Widening the head broadens the face. Shaping figures is easiest when the figure is in its default pose where you can clearly see the results of each of your actions.
You may want to hide the other figures and props in your scene for an uncluttered view.
As you finish shaping and posing each body part, you can lock it as described in Lock Object. And, once you've posed your figure, you can guard against accidental changes by locking the entire figure as described in Lock Figure.
Symmetry can be a huge time saver, allowing you to pose half your figure and apply the pose to the other side. Please refer to Pose Symmetry for information about using Symmetry. Also, try using cutting and pasting to apply poses across multiple figures.
If your computer can support it, we recommend enabling Full Tracking mode (see Tracking Mode) so you can view your work in real time. This does require extra computing resources, which can affect performance depending on your computer's specifications and the complexity of your scene.
© 2020-2021 Bondware, Inc. Last updated November 23, 2021