The Apple/Mac operating system has always been an artist-friendly environment. Posersoftware's recent release of the Mac version of Poser 13 is an attempt to continue the Apple tradition of making work easier and more powerful for artists.
The goal of this article is to give you a basic overview of the installation process of the Mac version of Poser 13 and to help you fine-tune the application once it is installed.
Requirements
It is very important that you check the requirements for Poser 13 in the Apple operating system. The installation will simply not work unless you have at least the basic requirements. These requirements are:
Mac OS X 10.15 or higher (64-bit OS required)

2 GHz Intel Core 2 Duo processor (64-bit CPU required)

Runs on M1/M2 (ARM) through Rosetta.

4 GB system RAM (8 GB or more recommended)

OpenGL-enabled graphics card or chipset required for hardware accelerated preview.

24-bit color display, 1440 x 900 minimum resolution

3 GB free hard disk space (20 GB required to install all included content)

DVD-ROM drive (physical product only) • Internet connection for updates and required online activation.

ZBrush 4 or later is required for GoZ interoperability. (ZBrush 2021 recommended)
Once you have established that your Mac meets the system requirements, head over to the downloads section at posersoftware.com and download the TRIAL version of Poser 13. We recommend the trial version because it lasts for 3 weeks with no real restrictions and, more importantly, you can check your Mac's compatibility with Poser 13 and solve any problems before you purchase the program. While you are on the downloads page grab the Poser 13 manual as well. Most of the information in this article was drawn from the manual which describes the Poser 13 installation process in more detail
We also recommend that you clean your system before you install Poser 13, although this is not a requirement. Clean my Mac is an outstanding, inexpensive program that gets rid of junk, fine-tunes your files, and checks for viruses. It also has a handy uninstaller if you want to uninstall the Poser 13 Trial.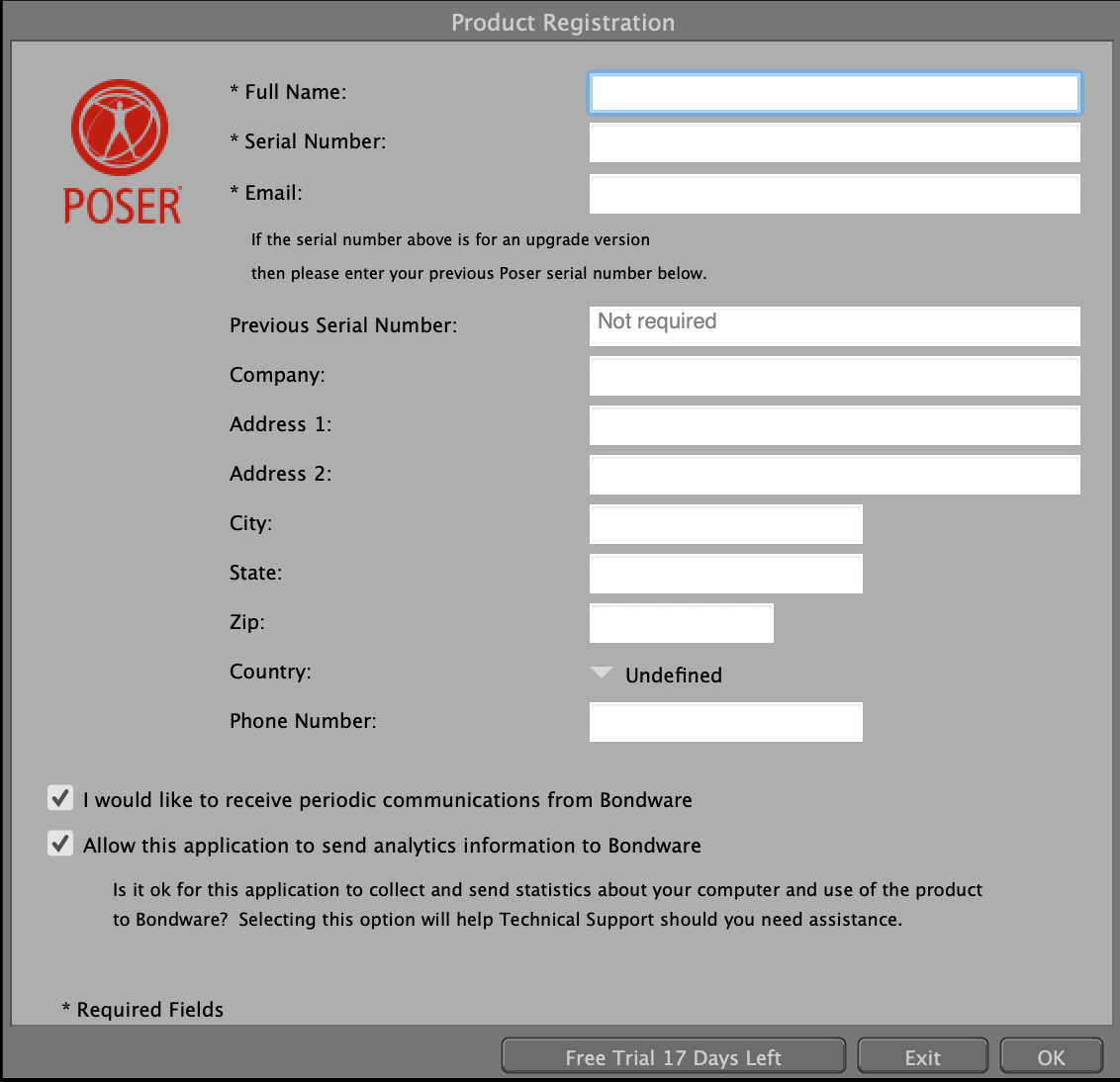 Installation
The actual installation of Poser for Mac is just like any other program: double-click the download file and follow the prompts. Use the default settings for now as it makes the installation process simpler. Once Poser 13 is installed you can double-click the Poser icon and start the program. The current version is: 13.1.469
You will be asked to register your copy of Poser 13. Add the basic information and continue. Once completed you'll be working with a 21-day free trial of Poser 13, after which you will be prompted to purchase a license and receive your serial number. You will need this serial number to register and download the additional content included with Poser.
Note that sometimes Apple will be suspicious of downloaded programs and may not run the install package. If this happens on your Mac, follow the instructions here to fix the issue.
Now that you have a working version of Poser 13 on your Mac, we recommend that you check the general preferences section under the Poser drop-down menu at the top left section of the Poser interface. Here you can adjust the program launch behavior, set the interface the way you like it, adjust the library settings, render settings, and temp folder location. Again, the Poser 13 manual is a good place to see more detailed information on these settings.
Another great feature of Poser 13 is that you can completely change your workspace and save it. Consider this process in the detailed "Setting Up Your Workspace" section of the manual.
Purchasing Poser 13 and Free Content
At the end of the 21-day free trial period, you'll be asked if you want to purchase Poser. Of course, you can always buy before the end of the trial period by clicking on the drop-down under the Poser tab at the top left of the program. Poser 13 for Windows & Mac is currently $249.95 or $110 for an upgrade. If you want a physical installer (USB stick) it will cost an additional $49.95. When you purchase Poser 13, you'll receive a key. Load that key into your registration form located under the "Help" tab. Close and reload and you are all set.
There are many new features added to Poser 13. A new Cycles renderer, new content creation tools, and more. You can find a complete list here.
Poser 13 comes with over 30 GB of FREE CONTENT with every purchase. You not only get all of the legacy content from previous Poser versions, but a ton of new Poser 13 content including the new L'Homme and La Femme figures. All of the new content is accessible from the Purchases tab on the right of the interface. Just click the download/install and let the process run.
Now that you have installed Poser 13 on your Mac and downloaded all of the free content, what's next? If you are new to Poser, we recommend checking out some great beginner's tutorials at Renderosity.com. This site is the largest Poser site on the web with forums, tutorials, Free stuff for Poser, and a supportive community. Poser has been around for over 20 years and the community of users is huge.
That wraps up our installation guide. Remember if you have questions or need help, the Poser support page is where to go. You can check the FAQS or ask a question. You'll get prompt support for your issue.